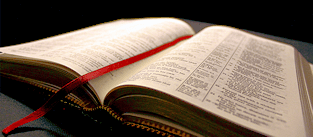 Bible Usage:
Dictionaries:
Included in Eastons:

Yes

Included in Hitchcocks:

No

Included in Naves:

Yes

Included in Smiths:

No

Included in Websters:

No

Included in Strongs:

Yes

Included in Thayers:

No

Included in BDB:

Yes
Strongs Concordance:
Easton's Bible Dictionary
Oracle
In the Old Testament used in every case, except 2 Samuel 16:23, to denote the most holy place in the temple (1 Kings 6:5, 19-23; 8:6). In 2 Samuel 16:23 it means the Word of God. A man inquired "at the oracle of God" by means of the Urim and Thummim in the breastplate on the high priest's ephod. In the New Testament it is used only in the plural, and always denotes the Word of God (Romans 3:2; Hebrews 5:12, etc.). The Scriptures are called "living oracles" (comp. Hebrews 4:12) because of their quickening power (Acts 7:38).
---
Naves Topical Index
Oracle
---
Webster's 1828 Dictionary
Oracle
ORACLE,
OR'ACLE, noun [Latin oraculum, from oro, to utter.]
1. Among pagans, the answer of a god or some person reputed to be a god, to an inquiry made respecting some affair of importance, usually respecting some future event, as the success of an enterprise or battle.
2. The deity who gave or was supposed to give answers to inquiries; as the Delphic oracle.
3. The place where the answers were given.
4. Among christians, oracles, in the plural, denotes the communications, revelations or messages delivered by God to prophets. In this sense it is rarely used in the singular; but we say, the oracles of God, divine oracles, meaning the Scriptures.
5. The sanctuary or most holy place in the temple, in which was deposited the ark of the covenant. 1 Kings 6:1.
6. Any person or place where certain decisions are obtained.
7. Any person reputed uncommonly wise, whose determinations are not disputed, or whose opinions are of great authority.
8. A wise sentence or decision of great authority.
OR'ACLE, verb intransitive To utter oracles.
---