Eight Classic Bible Dictionaries
Webster's 1828 Dictionary
Author: Noah Webster (1758 – 1843)
Published: 1828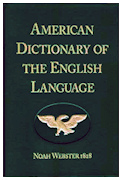 The 1828 Webster's Dictionary of the English language is based upon God's written word. Noah Webster used the Bible as the foundation for his definitions. Webster began compiling his fully comprehensive dictionary, An American Dictionary of the English Language in 1807.
To evaluate the etymology of words, Webster learned twenty-eight languages, including Old English (Anglo-Saxon), Gothic, German, Greek, Latin, Italian, Spanish, French, Dutch, Welsh, Russian, Hebrew, Aramaic, Persian, Arabic, and Sanskrit. Webster hoped to standardize American speech, since Americans in different parts of the country used different languages. They also spelled, pronounced, and used English words differently.
Webster completed his dictionary during his year abroad in January 1825 in Cambridge, England. His book contains seventy thousand words, of which twelve thousand had never appeared in a published dictionary before.
Easton's Bible Dictionary
Author: Matthew George Easton, M.A., D.D. (1823-1894)
Published: in 1897 (three years after Easton's death)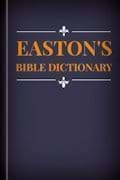 The third edition contains 4,000 entries relating to the Bible, from a 19th century Christian viewpoint. Easton's Bible Dictionary (formerly known as the Illustrated Bible Dictionary) is a classic source for Bible scholars. Easton was a Scottish Presbyterian minister who is known primarily for his masterful reference work. Easton's contains both short, dictionary-like entries on words, people, and places, as well as longer, encyclopaedic accounts. Easton's theology is decidedly Protestant - but the Dictionary is, according to reviewers, still useful and relevant for everyone. This dictionary provides excellent background information on a wide variety of Biblical topics.
Hitchcock's Bible Names Dictionary
Author: Roswell Dwight Hitchcock (1817 - 1887)
Published: 1869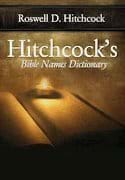 Published in the 1800's as part of the "New and Complete Analysis of the Holy Bible", Roswell Hitchcock's purpose was to define over 2,600 names of characters and places found in the Bible.  Expand your knowledge of Bible names and their meaning with this wonderful dictionary. Use it to understand a brief description of a large number of names mentioned in the Bible.
Smith's Bible Dictionary
Author: William Smith (1813 - 1893)
Published: 1863
Smith's Bible Dictionary is a comprehensive A to Z glossary of Biblical names, concepts, places, objects, and technical terms. Organized alphabetically by first letter, this dictionary provides a simple method of understanding Biblical terminology. For each word, Smith indicates where the word appears in the Bible, its definition, and a modern equivalent of the word, when applicable. For additional assistance, the dictionary contains links to other encyclopedic and dictionary references.
Naves Topical Index
Author: Orville James Nave (1841–1917)
Published: 1896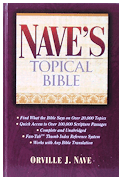 Nave's Topical Bible is a Bible index written by Orville James Nave. Nave was a chaplain in the United States Army and referred to his work as "the result of fourteen years of delight and untiring study of the Word of God." It is a topical concordance of the Bible, and contains Biblical references to over 20,000 topics. Scripture is quoted over 100,000 times; the same Scripture citation may appear under several headings.
Strong's Exhaustive Concordance of the Bible
Author: Dr. James Strong (1822–1894)
Published: 1890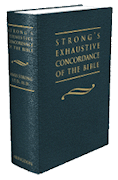 Dr. Strong (Professor of exegetical theology at Drew Theological Seminary at the time of publishing) provides an exhaustive cross-reference of every word in the King James Bible back to the root word in the original text. Unlike other Biblical reference books, the purpose of Strong's Concordance is not to provide content or commentary about the Bible, but to provide an index to the Bible. This allows the reader to find words where they appear in the Bible and gain insights to the original language usage.
Thayer's Greek-English Lexicon of the New Testament
Author: Joseph Henry Thayer (1828-1901)
Published: 1896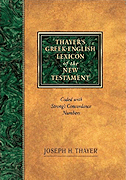 For over a century, Thayer's has been lauded as one of the best New Testament lexicons available. Both accessible and thorough, it is a work suited for the student of New Testament Greek. Thayer's provides dictionary definitions for each word and relates each word to its New Testament usage and categorizes its nuances of meaning. Its exhaustive coverage of New Testament Greek words, as well as its extensive quotation of extra-biblical word usage and the wealth of background sources consulted and quoted, render Thayer's an invaluable resource.
The Brown-Driver-Briggs Hebrew and English Lexicon
Author: Francis Brown, R. Driver, and Charles Briggs
Published: 1906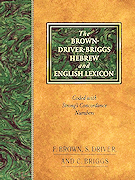 A trio of eminent Hebrew Bible scholars: Francis Brown, R. Driver, and Charles Briggs spent over twenty years researching, writing, and preparing The Brown-Driver-Briggs Hebrew and English Lexicon. Since it first appeared, BDB's exhaustive coverage of Hebrew Bible, Hebrew words, as well as its unparalleled usage of cognate languages and the wealth of background sources consulted and quoted, render BDB an invaluable resource for all students of the Bible.
Back to top